University Centre Leeds has become the first educational institution in Yorkshire to gain Higher Technical Qualification (HTQ) status for some of its courses. But what exactly are HTQs, and why could they play a key role in building a stronger economy?
T Levels have tended to dominate the debate around efforts to boost the uptake of vocational education ever since they were first announced back in 2017.
Designed to provide post-GCSE students with a clear route into technical subjects via a streamlined selection of courses that combine classroom learning with work placements, the first T Levels were introduced in September, 2020.
And more are coming, with the government planning for a total of 24 – delivered by colleges, schools and other providers – to be rolled out in phases through to September, 2023.
Developed in collaboration with employers, those two year courses, which result in qualifications of equivalent value to three A levels, are part of a wider strategy to boost the prestige, popularity and quality of technical education.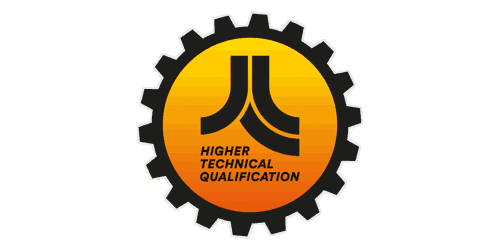 Higher Technical Qualifications (HTQs) represent the next part of an action plan whose goal is to plug skills shortages in the economy by producing the kind of 'work ready' graduates which industry has been saying for years that it needs. And it is the digital sector that stands to benefit as the first wave of HTQs are rolled out.
Intended to provide a readily understood quality mark, HTQs can only be attached to courses whose providers demonstrate that they meet a range of industry-focused criteria.
The Institute for Apprenticeships and Technical Education (IfATE) has just published a list of those institutions that have become the first to achieve HTQ status.
These first-cycle qualifications – all for the digital sector, with other subjects to follow – will start to be taught in September 2022 by providers including University Centre Leeds.
University Centre Leeds is the first institution in Yorkshire to gain the accreditation which it will be able to use with its Foundation Degrees in Cyber Security, Software Development and Computer Science.
Dean of Higher Education at University Centre Leeds, Janet Faulkner, said: "The HTQ accreditation is an endorsement of the quality of our courses.
"The approval process is rigorous and not only ensures the calibre of our courses but also that they meet employer needs."
She added: "The development of HTQs came about in response to the government's plans for the future of higher technical education in which they identified a shortage of people with Level 4 and Level 5 qualifications.
"The research identified a need for a different type of qualification to a standard, three year degree.
"HTQs are very much skills and behaviours focused and are about applying the knowledge in ways that prepare them for the workplace.
"To be accredited as HTQs the courses have to be developed in consultation with employers to ensure that they are developing the right knowledge, skills and behaviours. This involved discussions regarding both content and assessment methods, to ensure that students could hit the ground running when they went into employment.
"The accreditation process has involved a lot of detailed mapping against national occupational standards and consultation with employers: hard work but worth it, because the process has led us to adapting our courses to make them even better.
"As a result of this we now have three courses which have the HTQ quality mark endorsing their quality and relevance to employers."
The IfATE is approving HTQs in four cycles with digital up first. The second route – due to come on stream in 2023 – will also include construction, health and science.
The choice of digital courses as the forerunners makes sense given how vital the digital sector is to the economy – contributing some £149 billion per year, according to business data portal Statista – and a recognised shortage of necessary skills.
In March WorldSkills UK published, with Learning & Work Institute and Enginuity, new research entitled Disconnected: Exploring the digital skills gap.
The report showed that 60 per cent of UK businesses believed that their reliance on advanced digital skills was set to increase over the next five years, and that 88 per cent of young people realised that such skills would be essential for their careers. But the research also revealed that participation in digital skills training had declined since 2015 across the board – at GCSE, A level, further education and apprenticeships.
The issue is a pressing one at regional level, too. The West Yorkshire Combined Authority (WYCA) estimates that the digital technology sector is currently worth £6.6 billion to the Leeds City Region and employs 102,000 people.
In a local skills report produced by the WYCA this year, however, it was noted that 'our region's digital sector is growing more rapidly than the skills base can keep up with'.
University Centre Leeds's digital courses have been tailored to help plug that skills gap and give learners the skills and vocational focus that will help them, and the economy, flourish. University Centre Leeds believes having HTQ status for its Cyber Security, Computer Science and Software Development foundation courses will make those business-ready credentials plain for all to see.
Head of HE Digital/STEM at University Centre Leeds, Tim Balmforth, said: "These HTQ are in line with our commitment to the STEM strategy, alongside the Leeds City Region Enterprise Partnership (LEP) priorities, and addressing the predicted and current shortfalls in skills in the area.
"The latest LEP labour market report has highlighted a shortage of core technical skills, and more specifically a shortage of software developers and testers, support specialists and web developers. "Data analyst, network engineering and cyber security jobs are also on the increase locally and nationally.
"According to the Leeds City Region Labour Market report the top occupations in greatest demand overall, based on volume of job postings, are Software Developer/Engineer and Computer Support Specialist, IT Project Manager and Computer Systems Engineer.
"Our HTQs are designed to equip our students with these in-demand skills.
"Some of the more nuanced skills such as SQL, JavaScript, Microsoft C#, software development and .NET are also covered in our HTQs, ensuring our students meet the needs of the growing digital sector."
Providers that have courses which have received HTQ accreditation will be able to use the quality mark's logo to promote them.
Mr Balmforth added: "This quality mark will set us apart from our competitors and demonstrate our commitment to providing digital professionals who are 'work ready' with the skills employers are looking for.
"Our foundation courses have gained HTQ accreditation through meeting the strict guidelines set out in a wide range of occupational standards, thus giving them more vocational value based on the in-demand skills that have been highlighted across a range of digital careers.
"The work involved mapping a set of occupational standards in data analysis, cyber security, software development, software testing and networking to our foundation degree programmes at Level 4 and Level 5."
Cycles 3 and 4 of the HTQs, which are due to come on stream in 2024 and 2025 respectively, will cover standards in a wide range of sectors including business and administration; education and childcare; caring and hospitality; and agriculture, environmental and health care.
Hailing the announcement of the first HTQs, Minister for Apprenticeships and Skills, Gillian Keegan, said: "These digital qualifications, for first teaching in September 2022, are the next step in our reforms to technical education designed to improve the quality and choice of options for learners and employers. "For the first time, learners and employers will know which digital Level 4 and 5 qualifications map to employer-led standards for specific roles – a great option for students aged 18-plus and adults looking to retrain or upskill."